Sloppy Slingshot defending hands Thames victory despite valiant fight back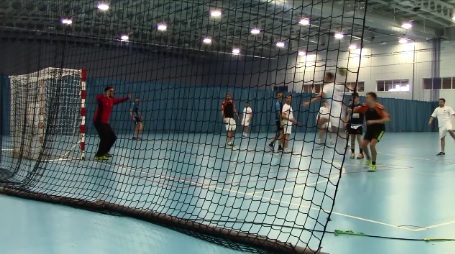 Maccabi GB Handball 23 – 29 Thames II
Maccabi GB Handball returned to the court for the first time in 2015 with one New Year's Resolution in mind – win their first ever England Handball Association (EHA) London Regional Development League 2 match. However, despite a heroic comeback, in which the side aimed to reduce a 10-goal deficit, soft defending in the first half meant the final score was 23-29 to Thames II.
The two sides met at the end of last year, with Thames again leaving the happier after a 19-12 victory. Into the starting seven came winger, Daniel Alexander, and centre court player, Adam Goldman, both who were looking to cement a starting berth for future matches. The only casualty was high-scoring Back, Dean Caplin, whose back injury will keep him out till March. He was still involved, however, stepping in as referee due to the officials not turning up, and doing an exemplary job.
After a short delay to the throw-off whilst the ref situation was sorted it was Thames who threatened earliest, crashing a long-range shot of Pinhass' crossbar in the first minute – a sign of things to come. Both keepers were tested before a long pass from Tony Tropp to Liam Stein saw the MGB captain give his side a promising lead. Thames replied instantly through Theo Floret and again via Paolo Barros, before Tropp tied things up using his strength as a weapon against the young opponents.
Like two equal boxers in a bought, Thames and Maccabi GB were exchanging blows – Alex Elf notched up his first of the game to counter the away side earning their third a minute earlier. And he was at it again, powering through the defence and smashing home. However, by this stage Thames had already put three more past Pinhass. Six-four as it stood to Thames.
Tropp cut the deficit to one before the away side added another three – one, a deft score and one rebounding off the post and then Pinhass. However, if MGB were frustrating in defence, they were still determined in attack as Elf clawed another goal back to earn a quick hattrick. Thames hit their tenth inside fifteen minutes and, after the excitement of the opening stages, the game quietened down with both goalkeepers pulling off some fantastic saves.
The introduction of Player-Manager, Adam Goldsmith, brought goals from both him and Liam Stein. However, Maccabi GB Handball were still leaky at the other end and the score after 20 minutes was 16-8 to Thames. The Slingshots still had reason to be cheerful as Pivot, Daniel Sichel, scored his first goal in MGB colours. Floret netted his 11th of the half, his side's 17th, and an additional brace had the score all in Thames' favour at the break.
HT: Maccabi GB Handball 9 – 19 Thames II
Most sides may see a ten-goal-deficit in front of them and crumble, but the half time whistle came just at the right moment for MGB as it allowed them to regroup and change tactics. Tropp's injury meant another substitution and Joey Carr was introduced at Winger, with Goldsmith playing at Centre. The side were unfortunately a man-down as Adam Goldman was a given a 2 minute sin bin at the end of the first half.
Thames II again drew first blood through Louis Bloom, but a break-away by Stein saw MGB hit their tenth after a quick, one-two between the winger and Sichel. This quick-break inspired the rest of the side and Goldsmith and Stein added another three between them, all in similar style. In the same time period, their opponents also notched-up another three.
The Community's only competitive Handball side were still ten goals down, despite Alex Elf powering another in from a set-piece, as the young, away team added goals through Floret and Barros again. It was déjà vu as Stein scored from another break-away, but Thames were not going anywhere, hitting the back of the net three more times and looking to add to their tally further.
However, all of a sudden, Maccabi GB Handball went into overdrive. Stein scored his sixth of the match – again via a fast break – before Goldsmith added a brace and Sichel also got in on the action with a well-deserved second. Thames beat Pinhass once more, but it was fitting for Stein to get his seventh of the match straight afterwards.
In what was to be a frantic last minute, Maccabi GB managed to score three times. Alex Elf grabbing two and Goldsmith rounding things off for MGB, as both players hit six each by the end of the game. At this point the deficit had been cut to just six but, with the Slingshots finally finding their stride, the final buzzer blew and Thames II let out a sigh of release.
Final Score: Maccabi GB Handball 23 – 29 Thames II
Speaking after the match Head Coach, Tony Tropp, said, "This was the first time we've scored over 20 in a single game, which is a big positive. However, I expected us to be a little rusty in our first match back after a seven-week-break [over New Year's] so it's just a shame that our first half defensive display let us down today. The team has some tough games coming up, so we must ensure that we stay solid to equal the obvious threat we have going forwards. An enormous 'Mazel Tov' must go to Dean Caplin, who refereed his first ever game and was respected by everyone on court."
Man-of-the-match for Maccabi GB Handball was Daniel Sichel, for his solid display in defence and for working hard to earn his brace.
Goal scorers
Stein x7
Elf x6
Goldsmith x6
Sichel x2
Tropp x2
Squad:
Alex Elf
Liam Stein (Captain)
Daniel Sichel
Anthony Tropp
Joshua Pinhass
Daniel Alexander
Adam Goldman
Joey Carr
Yitzchok Mordfield
Adam Berg
Adam Goldsmith (Player/Manager)
Maccabi GB Handball is still recruiting for players. Jewish athletes over the age of 16, and have good athletic ability, are encouraged to visit www.maccabigb.org/handball, email adam@maccabigb.org or call 0208 457 2333 for more info. No experience is necessary as Handball is a very easy game to pick up.
The team is sponsored by www.everythingasics.com – all Asics sports products at up to 20% off.