TEAM MACCABI GB BASKETBALL IN GOOD HANDS FOR EUROPEAN MACCABI GAMES 2015 WITH MARC DINNER AND COACHING TEAM APPOINTED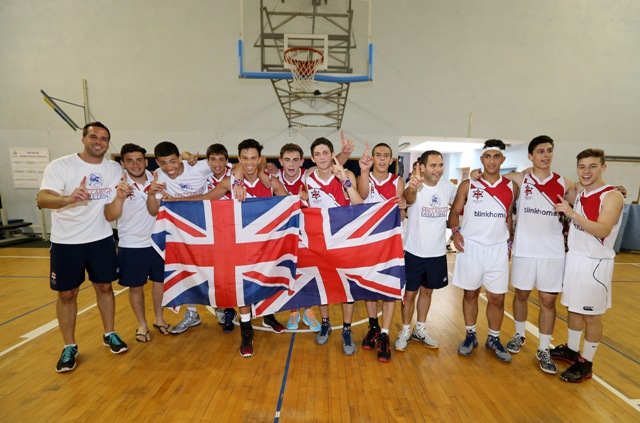 Maccabi GB, in partnership with UJIA, is delighted to officially announce that Team Maccabi GB's Basketball set-up for the European Maccabi Games 2015 will be overseen by Marc Dinner as Sports Chair. Adding to the Management Team will be coaches Tamir Grant, Craig Harris and Jason Rosenblatt, with team managers to be appointed at a later date.
A 30-year veteran of the sport, Dinner has played at local, regional & national levels, culminating in appearances for National League teams in Sheffield and London, both at U18 and Senior Level. He has a close affiliation to the Maccabi GB movement, having represented Great Britain at three Maccabiah Games in 1989, 1993 and 1997 (where Team Maccabi GB finished fifth, fourth and second respectively). He was also Sports Chair for the 18th Maccabiah Games in 2009.
Coaches Harris and Grant made an impressive impact with Team Maccabi GB over the summer at the 19th Maccabiah Games in Israel, guiding the U18 Junior Boys Basketballers to three historic victories.
Speaking about his appointment, Marc said, "I feel very lucky and privileged to be given this opportunity to represent my country and community in this amazing sporting and cultural event. I have experienced the Maccabiah Games four times, but never the European Maccabi Games, and I am really looking forward to leading the Basketball teams in Berlin. It is such an incredibly vibrant and culturally-historic city and by having the 2015 Games staged there I am sure it will not only be emotional and positively charged, but also incredibly fun. My objective is to build upon the great work Craig Harris and Tamir Grant did during the 19th Maccabiah Games and get all teams as close to medal positions as possible."
When asked about selection criteria for players, he added, "We are starting to look for new players now for all teams [U16 Boys, U18 Boys, Open Male, Masters Male] and we would be keen to hear from any potentially interested players, no matter what age or where they are located. I appreciate the standard in the UK is not as strong as in other countries, but we have a strong coaching team and we will be building up that team as we go along. I know we have the potential to do very well. For me the most important factor will be those who are enthusiastically-positive and want to work hard to prove to themselves, and others, that they belong on the court competing in an international event alongside Jewish Basketballers from across Europe. We will also consider overseas based players if they meet the right criteria."
Open try outs for all Basketball teams will be taking place in late January with the process of reviewing players following that. Team Maccabi GB is also looking for applicants who feel they could fit the criteria of 'Team Managers' and Marc Dinner indicated the he is also looking for sponsors, whether they be individuals or businesses, for his sides.
Applications for all Team Maccabi GB representatives can be found by visiting www.maccabigb.org/emg
For more information on the European Maccabi Games please call 0208 457 2333.