TEAM MACCABI GB COURTS CRAWCOUR FOR EUROPEAN MACCABI GAMES SQUASH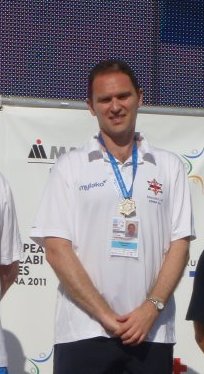 Maccabi GB, in partnership with UJIA, is delighted to officially announce that one of Team Maccabi GB's most decorated athletes, Matt Crawcour, has been appointed as Squash Chairman and Open Manager for the European Maccabi Games 2015 in Berlin.
Crawcour is no stranger to international competition having taken part in two Maccabiot (in 1993, where he won the Men's Open Gold Medal and in 1997) and two European Maccabi Games (1995 and 2011). One each occasion, he returned with a medal, including two Gold's for Team Maccabi GB at both the European Maccabi Games in Amsterdam and Vienna.
Previously, the multi-tournament winner was ranked 69th in the world in his sport and held the title of number one Maccabi Australia squash player for ten years. During this time on the PSA circuit he played in a number of events including the Swiss Open, Austrian Open, Danish Open, Jamaican Open, World Open, British Open, Italian Open, French Open, Portuguese Open, Australian Open, US Open and New Zealand Open.
Speaking about what it feels like to be appointed in his joint-roles, and what his aims are for Berlin 2015, Matt Crawcour said, "I am delighted to be appointed the Team Maccabi GB Squash Chairman and Manager for the European Maccabi Games. Maccabi GB has a strong squash pedigree at the European Maccabi Games and, after a successful squash campaign at the last tournament in Vienna, I am hopeful we can push for Gold in both the team and individual events. I am extremely proud to be representing British Jewry, not least in these games which will undoubtedly hold special significance because they are being held in Berlin, and I aim to instil this sense of Jewish identity and pride to all British Squash players."
The recruitment process has begun already with players encouraged to apply via the Maccabi GB website (address below). Ideally, the Squash Team will seek those with County Level or 1st/2nd Team club standard experience.
Applications for players for all Team Maccabi GB Teams can be found by visiting www.maccabigb.org/emg
For more information on the European Maccabi Games please visit www.maccabigb.org or call 0208 457 2333.