TEAM MACCABI GB LAUDS YOUNG TALENT AS JCC MACCABI GAMES SQUAD ANNOUNCED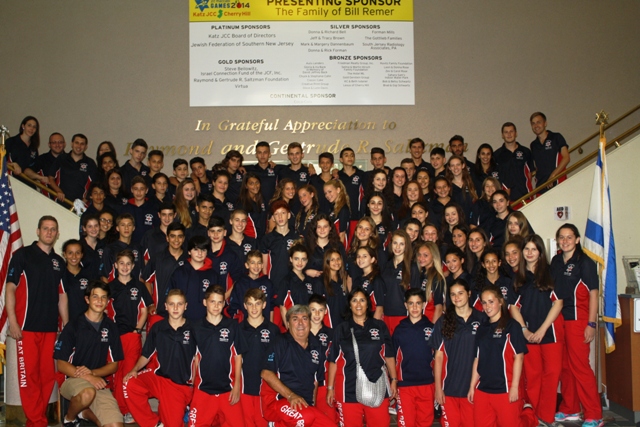 The 2014 Team Maccabi GB JCC Maccabi Games Delegation in Cherry Hill
Maccabi GB, in partnership with UJIA and the JC, is proud to officially announce the athletes who will be competing on behalf of Team Maccabi GB at this summer's JCC Maccabi Games in Fort Lauderdale, Florida. The JCC Games, from 6th-17th August 2014, are a chance for young athletes under the age of 16 to represent their country in America in a sporting environment, whilst experiencing social and cultural programmes with other young Jewish people from around the world.
The full Team Maccabi GB squad will consist of 65 athletes – 50 who will be representing British Jewry for the very first time – as well as an 11-person Management Team. They will be overseen by Heads of Delegation, Helena and Brian Green, and assisted by Janice and Ian Aarons. For many of the representatives it will be a chance to announce themselves to the Jewish sporting world as potential future European Maccabi Games and Maccabiah stars.
The announcement comes just a few months after the Management Team was confirmed.
The full list of Squads and athletes can be found below:
Boys U14 Football
Ben Bellman
Jacob Bennett
Dylan Bull
Jack Earle
Dylan Gordon
Daniel Jackson
Joshua Jacob
Ethan Kessel
Max Leader
Henry Mattey
Leor Nassim
Jayden Tomlinson
Managers: Liam Stein & Liron Mannie
Girls U16 Football
Nicola Brooks
Tabatha Cowan
Maxine Hotz
Ruby Kalms
Eve Lewis
Maddy Moryoussef
Katie Oliver
Amelia Shiner
Orli Summerfield
Managers: Alex Elf & Nicole Sawdaye
Lacrosse
Sadie Barr
Daisy Gershon
Swimming
Rachel Ayrton
Lara Hugh
Talia Kanerick
Molly Leizer
Talia Lever
Portia Nicholas-Jago
Harry Otvos
Emily Press
Jacob Steinberg
Manager: Natalie Sawdaye
Tennis
Jake Aspis
Noah Bass
Samuel Bass
George Bier
Jack Campbell
Marcus Gee
Darcey Goldstein
Alex Jordan
Raphael Memmie
Tom Miller
Samuel Novick
Annabelle Permutt
Sam Radivan
Charlotte Salt
Saul Segalov
Benjamin Sweiry
Manager: Emma Gibbor & Sophie Conway
Table Tennis
Jessica Abrahams
Oliver Adler
Joseph Bleetman
Dylan Goldstein
Joe Kaye
Eddie Lisberg
James Rich
Saul Shimoni
Nathan Sonn
Alicia Shiner
Manager: Philip Benson
Dance
Lucy Abrahams
Annabel Anisfeld
Millie Burns
Talia Engel
Abigail Gershinson
Hannah Grunwerg
Maya Vandermolen
Manager: Clare Dorset-Purkiss
Delegation Heads: Helena & Brian Green
Assistant Delegation Heads: Janice & Ian Aarons
Welfare Manager: Ben Travers
Media & Communications: Gilah Samuels
This summer's JCC Maccabi Games will see over 1200 young, Jewish athletes from around 40 different delegations descend on Florida.
Speaking about the selection Boys U14 Football Manager, Liam Stein, said, "It is an incredible experience to represent Team Maccabi GB at a JCC Maccabi Games. Each host city does a fantastic job putting on a great games and I'm sure Fort Lauderdale will be no different. We have an extremely talented squad who have already begun preparations for August. The athletes can expect intense competition mixed with plenty of exciting events with their host families and other young, Jewish participants from around the world.
"The unique element of the JCC Maccabi Games is the kindness the hosts show in welcoming our athletes into their homes and ensure they have as much fun as possible during the trip. I know our Delegation will have an incredible time and do British Jewry proud."