TEAM MACCABI GB's JCC MACCABI GAMES SQUAD LANDS SAFELY AFTER FANTASTIC AMERICAN GOLD RUSH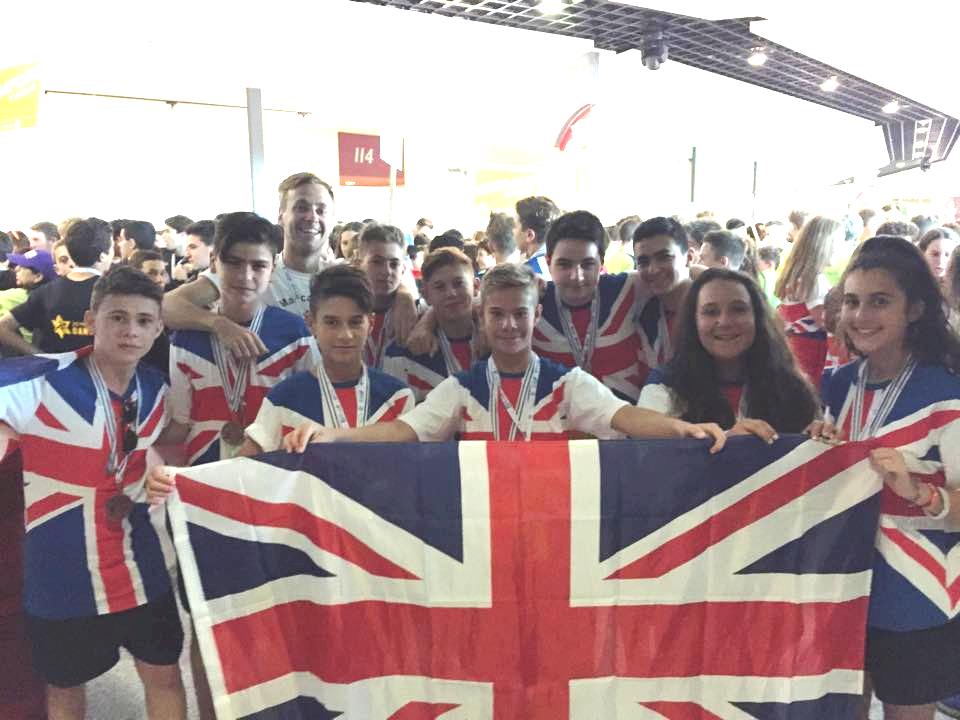 We are pleased to report that our young athletes have arrived safely back in the UK after competing at the JCC Maccabi Games 2015 in Fort Lauderdale.
Team Maccabi GB's young athletes returned from America on Sunday after an incredibly successful JCC Maccabi Games 2015 where the Delegation won a staggering 79 medals in Football (Boys and Girls), Dance, Table Tennis, Swimming and Tennis.
The 64-person Squad – consisting of young, Jewish athletes aged U13-U16-years-old from across the UK – and their 15 Managers took part in the Games from 7th-16th August in Fort Lauderdale, Florida. The competition gives many their first taste of Jewish international sports competition, whilst also engaging in social, religious and cultural experiences with other young participants from around the world. Landing on Friday morning, Team Maccabi GB were whisked off for their first official photo shoot before spending the weekend with their host families.
Following the Opening Ceremony where 10,000 people gathered at the BB & T Centre, home of the Florida Panthers NFL franchise, to welcome in the Games the competition started with a bang. Swimmers Rachel Aytron and Jacob Steinberg both won Team MGB's first medals of the JCC Games (both Bronze) and this inspired the rest of the team to follow suit, with 22 won in total. Amongst these were two Gold Medals from Lara Hugh and Molly Leizer in the 400 Yard Freestyle Relay, whilst Rachel Ayton and Emily Press also won Gold in the Medley Relay.
Great Britain's Table Tennis stars shone bright as Oliver Adler and Dylan Goldstein won Bronze Medals in the U16 Team Competition and Silver in the U16 Doubles. Their teammates, Nathan Sonn and Joe Kaye won Bronze and Silver in the U14 Team Competition and Doubles events, respectively, whilst the entire side won a collective 28 medals – the highest for Team MGB in Florida.
Coming a close second was GB's Dancers, who won 25 medals between them. All dancers - Talia Engel, Abigail Gershinson, Maya Vandermolen, Millie Burns, Annabel Anisfeld and Hannah Grunwerg – won a number of Golds, Silvers and/or Bronzes each, with Grunwerg also being awarded a 'Midot Sportspersonship Medal' for her true kindness and putting others before herself.
Team Maccabi GB's Tennis athletes did the Delegation proud in a tough competition, winning three medals - Tom Miller won Silver in the Singles B competition to a top ranking Israeli athlete, whilst Sammy Novick and Samuel Bass took home a Doubles Bronze each.
The final squads were the U16 Girls and U14 Boys Football teams. The former had a tough tournament, unable to progress to a medal-position, but drawing plaudits for their teamwork and spirit. The Boys' side, however, left America covered in glory, having dominated every match they played en route to the Final and winning the Gold Medal Match 8-0 vs JCC Philadelphia. Plaudits must go to the whole side, whilst Managers Liam Stein and Liron Mannie were awarded a Midot Medal for creating a friendly game involving mixed players from all Delegations.
With the competition drawing to an end the Closing Ceremony, at Nova Southern University, saw all the participants take part in a party which gave them an opportunity to say goodbye to all the Jewish friends they had made in the past week, before returning home to the UK.