Team Maccabi GB Select Squad for Inaugural Maccabi Youth Games

Maccabi GB, in partnership with UJIA and The Jewish Chronicle, is proud to announce the athletes and management team who will represent Team Maccabi GB at the Maccabi Youth Games. The inaugural event will take place in Israel and will attract athletes from USA, Canada, Holland, France, Argentina and Hungary.
The Maccabi Youth Games, from 23rd July – 1st August 2018, are a chance for young athletes under the age of 16 to represent their country in a sporting environment, connect with Israel and their Jewish identity and experience social and cultural programmes with other young Jewish people from around the world. For many of the athletes it will be a chance to announce themselves to the Jewish sporting world.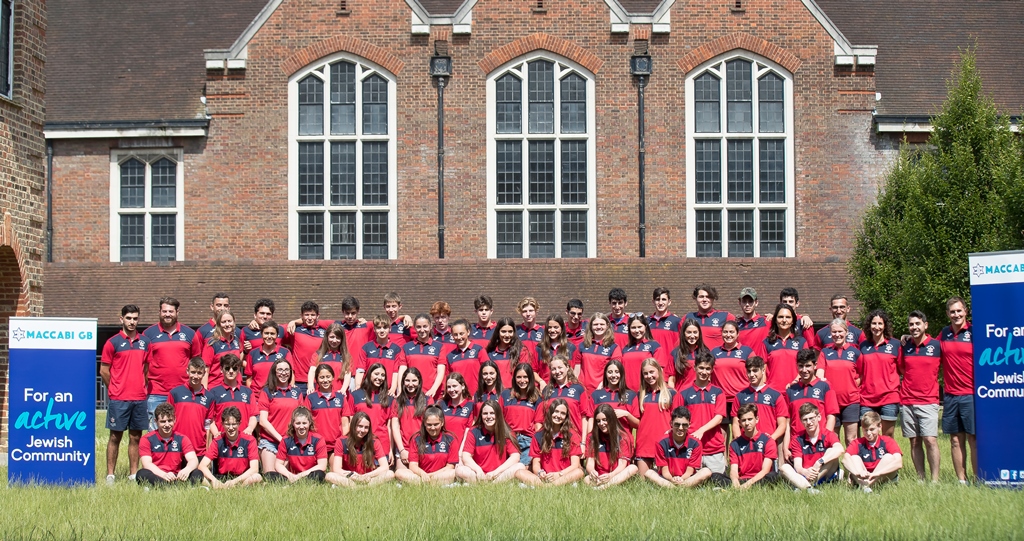 Leading the squad are Junior Team Managers, Neil Taylor, Jessica Overlander-Kaye and Nathan Servi. They will oversee the 78-person delegation alongside sport managers Yvie Curtis, Tamir Grant, Amanda Jacobs, Natalie Kenton, Sammy Kingston, Abel Leaman, Jessica Pinnick, Ben Rosen, Jordan Sapler, Debra Silver and former England International Sian Williams.
Speaking about the selection Neil Taylor said, "My hope is that our athletes not only enjoy the unique experience of representing their country and community at the games in a sport they love, but also to come away from the experience having done their best and made new friendships and memories to last a lifetime. Whatever happens, Team Maccabi GB will do us all proud and hopefully, inspire the next generation of young Jewish sportspeople for years to come."
Overlander-Kaye added, "It's great to give young people an international Maccabi GB experience. Many have never represented their country before and haven't been to Israel so it's a privilege to manage this squad as a whole. It is also fantastic to work with such a strong management team – many of whom have also represent Team Maccabi GB in the past."
Servi concluded, "I am hugely excited to co-manage Team Maccabi GB at the upcoming Maccabi Youth Games in Israel. This is a brand new event for Maccabi GB, with a specific focus on young people; the Games will include competitive sports and a well-crafted range of tours of Israel. Educational tours of Haifa, Tel Aviv and Jerusalem will allow our young athletes not only to represent Great Britain on the International scene, but also explore their own Jewish Identity and connection to Israel."
Team Maccabi GB would like to thank its Maccabi Youth Games sponsors, Maxine Marks Luxury Property in Israel, Clive Sutton Luxury Cars, Kenkko and Berry's Jewellers.
The full squad list can be found below:
Basketball
Managers: Tamir Grant and Ben Rosen
Oliver Becker
Theo Kitsberg
Harrison Persell
Joseff Rubinoff
Gavriel Sacks
Benjamin Smith
Josh Smith
Boys Football
Mangers: Sammy Kingston and Jordan Sapler
Jacob Baum
Noah Bezalel
Zack Cohen
Aaron Cowland
Josh Ebel
Dylan Epstein
Tyler Gordon
Josef Marks
Gilad Newmark
Bradley Raw
Mikhael Sassooni
Sam Smith
Archie Steinberg
Ben Sutton
Harry Wagman
Sam Wolfson
Girls Football
Managers: Sian William and Yvie Curtis
Yael Adams
Shira Benjamin
Tatiana Collis
Anouska Dresser
Amy Fraser
Minnie Freed
Yaelle Lang
Sasha Raw
Georgia Rosenberg
Isabella Roukin
Amelie Tausig
Aimee Trainis
Netball (Red)
Managers: Natalie Kenton and Jessica Pinnick
Alexis Barnett
Lulu Cohen
Hannah Fairnington
Katya Israel
Talia Peleg
Abby Pollins
Chloe Rabin
Miriam Sondhelm
Maya Tricot
Noa Tydeman
Netball (Blue)
Managers: Amanda Jacobs and Debra Silver
Eden Cohen
Lola Cohen
Eliana Cooper
Alexandra Kagan
Eve Kenton
Erin Kurland
Baillie Newton
Isabelle Samuels
Tami Schwarzmann
Libbi Wise
Rugby 7s
Managers: Abel Leaman and Ben Rosen
Robert Auerbach
Benjamin Bergman
Louis Collins
Charles Grant
Ethan Hofton
Joshua Jerrard
Henry Kolton
Joshua Nicholson
Oliver Walton