WONDERFUL WEDNESDAY SEES MORE MEDALS FOR TEAM MACCABI GB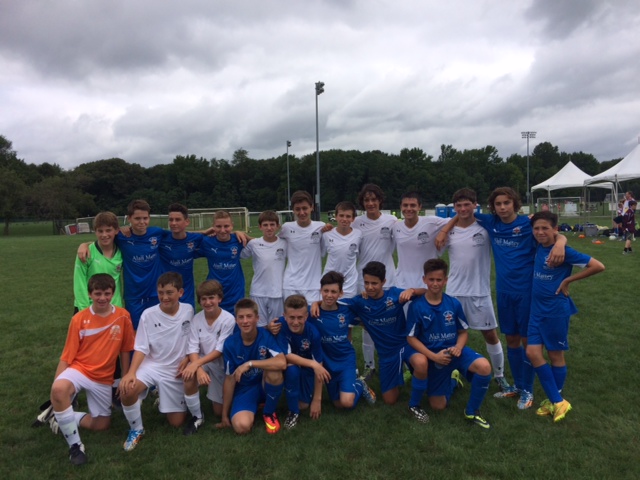 Winning has almost become a habit for Team Maccabi GB's JCC Maccabi Games Squad as the young athletes finished Wednesday's competitions with another 17 medals to make their total tally of awards 80 so far.
With the Track & Field side being one of the most successful squads for Team MGB in this summer's Games, normal service resumed as our track stars celebrated a gold haul. The male athletes saw four amazing Gold medals – for Aidan Raphael (400m), Tal Pelmont (1500m) and Team Maccabi GB's 4x400m and 4x100m Relay Teams. Adam Mizrahi also won Silver in the 1500m. The female athletes were no different as Rachel Ayrton won 1500m Gold, and the Relay Teams matched their male counterparts by winning the 4x400m and 4x100m double.
Correction from yesterday: Alana Jacobs won Bronze in the 300m Hurdles.
It was a similar story for the successful swimmers in the Swimming competitions. Chloe Jacobs won Silver in the 100m Backstroke and also in the 400m Individual Medley, whilst Daniel Schindler won Silver in the 200m Free and 100m Backstroke. There were three medals in the Relays – Gold for Chloe Jacobs, Daniel Schindler, Elisha Kramer and Molly Leizer in the Mixed Relay; Silver for Emmanuelle Benjamin (in a mixed-delegation team); and Bronze for Talia Slater (in a mixed-delegation team).
There were mixed results for Great Britain's Football teams. The Girls Football Team's match was full of drama and could not have started any worse. Stand-in Goalkeeper, Eve Lewis, was involved in a goal-mouth-scramble in the first few minutes of the game and, unfortunately, came off second best. She was taken to hospital and is now back with the rest of the squad after excellent care. During the rest of the game, Team MGB were brilliant and dominated the game against San Diego. However, they came across an inspired Goalkeeper in the opposition net and even though they took the lead three times, San Diego came back to equalize each time. This meant the match was decided via a Penalty Shoot-out. Unfortunately, Great Britain lost 5-4, but the team has nothing to feel bad about as it is fair to say that they have come on leaps and bounds during these JCC Games. After Tuesday's defeat for the Boys Team normal service was resumed on Wednesday as the side easily beat Greater Washington 7-1, with Jack Mattey netting an incredible five times. The game was effectively all over with 15 minutes remaining, so being inspired by the Rachmanus Rule, both teams agreed to mix the sides up and fun was had by one and all. Thursday is the competition's Semi-Final where Team Maccabi GB will meet the unbeaten Maccabi Mexico who will be a different class of opposition completely. Everyone back in the UK is hoping that is will be 'adios amigos' to Great Britain's opponents!
Team Maccabi GB's Table Tennis athletes were out in full force and had much to be happy about. In the 'Bracket A' Singles Quarter Finals (best of five) Sammy Kaye (GB) beat Carl Briendel (GB) 3-1; Joe Kaye (GB) beat Scott Leveson (GB) 3-0; Jonny Stelzer (GB) beat Nathan Sonn (GB) 3-1. In the Semi-Finals (best of seven) Noah Spitz (East Bay) beat Sammy Kaye 4-2 and Doddy Stelzer beat Joe Kaye 4-2. In the Doubles, Carl Breindel/Sammy Kaye beat Noah Spitz/James Rich (GB) 3-1 and Joe Kaye/Scott Leveson beat Jonny Stelzer/Nathan Sonn 3-2. 'Bracket A' fixtures will be held on Thursday at 9:15am (USA ET).
Following Tuesday's turnaround in fortunes in the Dance competition, Team Maccabi GB's participants were back in form again on Wednesday – and how! Hannah Grunwerg won Gold in the Open category, with Sophie Katz taking Silver. Annabel Anisfeld took Bronze in the Modern category, with Sophie Katz and Darcy Shonn awarded the Gold medal in the Tap Duet event. Special mention must go to Annabel Anisfeld who was also presented with a special award for her passion for dance and kindness to others.
Correction from yesterday: Sophie Katz won Bronze in Tap Solo.
In the Tennis competition Charlotte Salt got through to the U14 Girls Semi-Final whilst the other girl athletes will compete in the Doubles after being eliminated from the Singles. Oliver Jacobson is the only U14 Boy who reached the Semi-Finals, whilst James Benjamin made it through to the next round of the U16 Section.
Whilst there was no more action for Team Maccabi GB's Lacrosse players, the side took part in a specialised Lacrosse Clinic.
Thursday will see some of the Finals and last events in the competitions, with Team Maccabi GB looking to win as many medals as possible to surpass last year's total tally of 108.
The JCC Maccabi Games is an annual competition held in the United States for young athletes, aged 16 and under, to taste international competition in a variety of sports, whilst integrating with other young, Jewish athletes from other countries. This year the competition runs until 18th August.