Young, interfaith Leaders graduate from Alan Senitt Community Leadership Programme 2017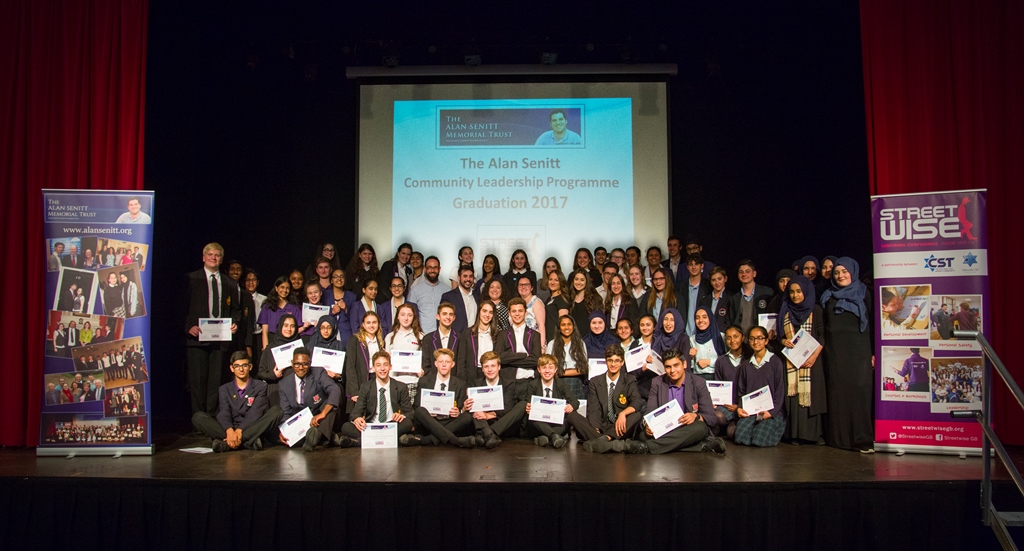 Last night, the Alan Senitt Community Leadership Programme Graduation Ceremony 2017 took place at Yavneh College, in Borehamwood. The ceremony marked the end of the eight-month-long Programme, which is managed and facilitated by Streetwise - a partnership project between the CST and Maccabi GB.
Now in its ninth year, the Alan Senitt Community Leadership Programme brings together 80 fifteen year old participants from 8 schools of different faiths and backgrounds; with the aim of teaching leadership and presentation skills, the programme also includes masterclasses from industry experts and workshops on discrimination, all aimed at empowering the participants to create and deliver inspirational social action projects in their own communities.
The ceremony was attended by over 180 parents, teachers, head teachers and supporters of the Programme. Representatives from each of the participating schools, Ayesha Community School, Copthall Girls School, Guru Nanak Sikh Academy, Immanuel College, JCoSS, Nower Hill High School, Watford Grammar School for Boys and Yavneh College spoke on behalf of their schools, introducing their community projects and the skills they gained from the course.
Nower Hill High School presented their project, which included visiting their local elderly home and teaching IT skills to the residents, allowing them to communicate with family members on a daily basis. Yavneh College's project educated primary and senior school students about alopecia, raising funds and donating hats and bandanas to Alopecia UK. Ayesha Community School focused on benefitting the homeless within their communities, through donations of essential goods and a day of activities at a shelter, including bingo and painting. Across the eight different schools, the students managed to create long lasting impact in their communities, whilst educating and raising awareness of the social issues chosen.
Yvie Curtis, Alan Senitt Community Leadership Programme Manager said: "Tonight we have heard about the tremendous successes these young people have had with their projects, and their ability to reflect on challenges and disappointments in a constructive way. Their projects are outstanding pieces of work, which really do have a positive impact on their communities. But the real achievement is that thanks to the Alan Senitt Community Leadership programme each young person involved now understands that they can really make a difference, and is better equipped to do so in the future.
To find out more about the Trust or to support its efforts to train more leaders of the future please visit www.alansenitt.org. More information on Streetwise can be found at www.streetwisegb.org.