JCC Maccabi Games & JCC Maccabi ArtFest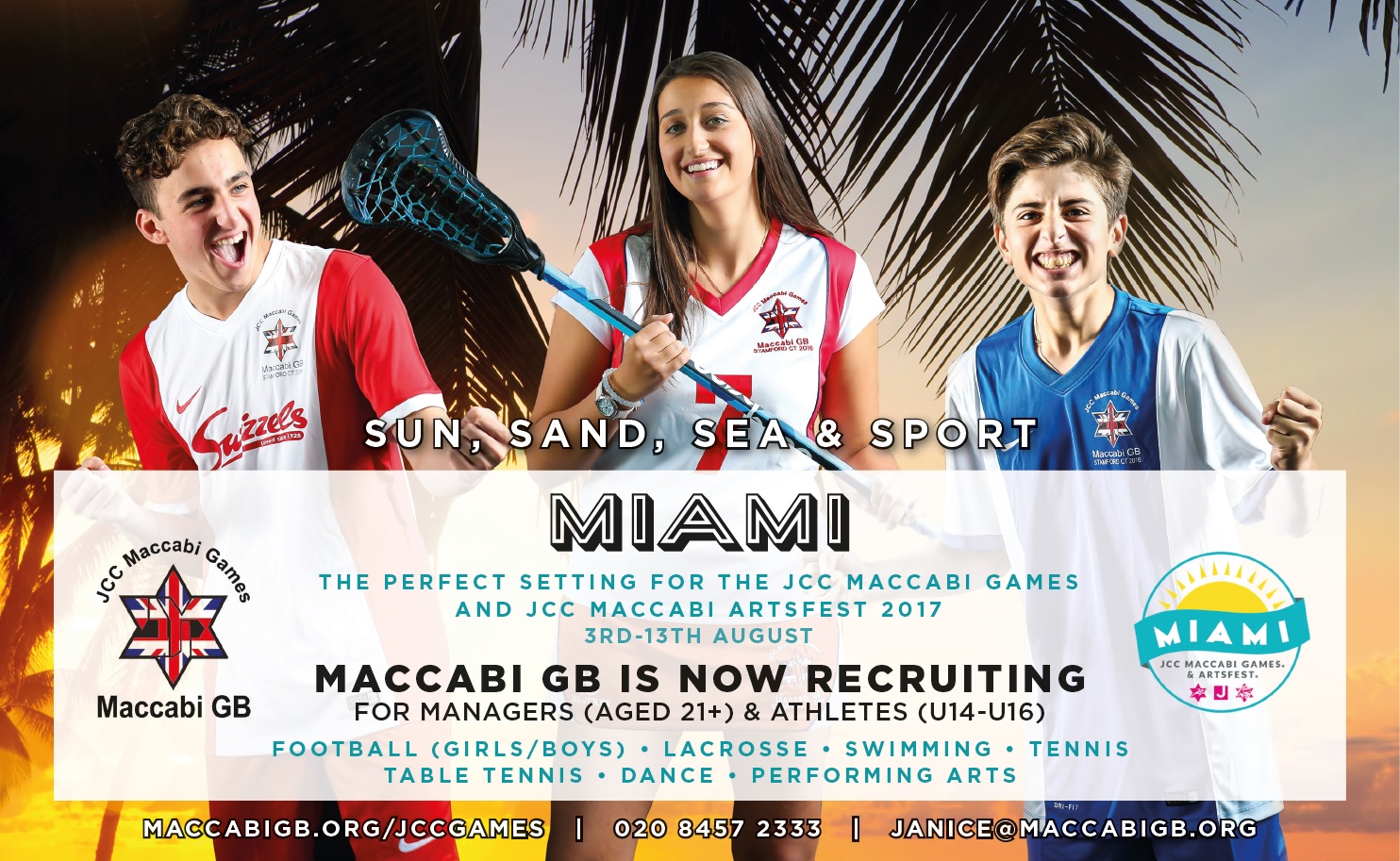 JCC Maccabi Games 2017
Miami, Florida

August 3rd– August 13th 2017
The JCC Maccabi Games & JCC Maccabi ArtsFest 2017 will be one of the biggest and best international sports & peforming arts competitions for young, Jewish participants in the U13-U16 age groups. In 2016, Team Maccabi GB won an astonishing 39 medals, forged thousands of friendships and made millions of memories that will last a lifetime! In 2017 we want you to experience more of the same!
MACCABI GB IS NOW RECRUITING FOR ATHLETES & MANAGERS TO LEAD OUR SQUADS TO MEDALS IN MIAMI!

DO YOU HAVE WHAT IT TAKES?

Sign up NOW via the below form and compete on an international stage whilst making new friends and taking part in amazing Jewish experiences.

We will be taking the following:


SPORTS
Girls Football

Boys Football

Girls Lacrosse

Swimming

Table Tennis

Tennis

Dance

PERFORMING ARTS

Acting/Improv

Culinary/Cooking

Dance

Musical Theatre

Rock Band

Star Reporter/Presenting

Visual Arts

Vocal Performance/Acapella/Glee
To qualify for each age group, you must fit the following criteria:
Managers: 21 years-old +

Participants

U14 Category - Born between 01/08/2002 - 31/07/2004
U16 Category - Born between 01/08/2000 – 31/07/2002
Please call our offices on 0208 457 2333 if you have any questions.
Financial assistance is available via Maccabi GB's means-tested bursary form. To request a bursary form please contact Daniel Morris, Head of Finance.
Maccabi GB maintains the right to refuse any application to this event prior to, or thereafter, the trial process.