Leadership by Streetwise 2021 Application Form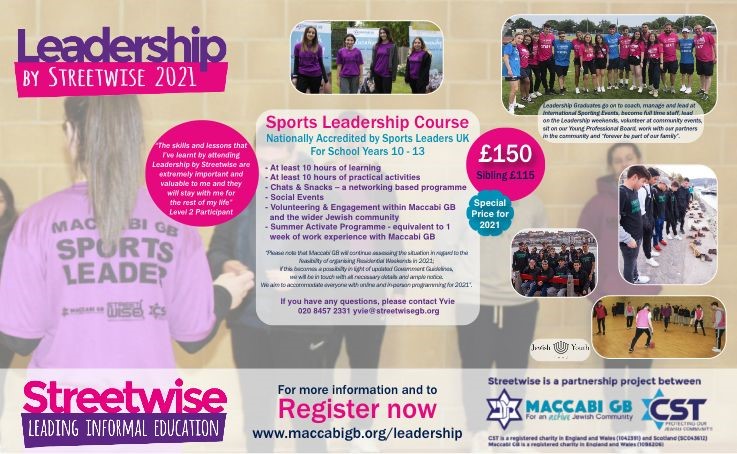 *Registrations closed*
If you need any information, please contact yvie@streetwisegb.org
Leadership by Streetwise is a unique Sports Leadership programme delivered by Streetwise and the community's sports provider, Maccabi GB. The programme is accredited by Sports Leaders UK.
Leadership will give you the qualifications and skills needed to lead sports sessions, coach teams and run sporting events, inspiring the community through your passion for sport. Sports Leaders UK's Level 1, 2 and 3 will stand out on your UCAS form and impress future employers.
The Course is open for young people in school years 10 – 13.
The Leadership by Streetwise programme will run from February to September 2021.
Due to the uncertainty caused by the COVID-19 pandemic, we cannot confirm exact dates and locations of the Leadership by Streetwise course this year. We will aim to accommodate all and will host activities online if need be to ensure the completion of the course.
Following the successes of our 2020 online programming, we are confident that this year's programme will provide incredibly valuable experiences to all participants. We will continue hosting activities online as well as aiming to meet and learn together in person through weekends / evenings / half term programming, all in respect of Government Guidelines.
SPECIAL PRICE FOR 2021
General Fee - £150
Sibling Fee (the second sibling would pay this) - £115
(Bursaries are available upon request)
Whilst we cannot guarantee that a Residential Weekend Away will take place this year, we have decided to take the core messaging and valuable skills & experiences from the programme and offer it to you in a slightly different set up than normal.
Included in the General Fee & Programme for this year …
- At least 10 hours of learning (both Sports Leaders UK & general leadership)
- At least 10 hours of practical activities (both Sports Leaders UK & general leadership)
- A 'Maccabi GB Sports Leaders' T-shirt
- Participation in the Summer Activate Programme from July 2021 (equivalent to 1 Week of work experience with Maccabi GB)
- Opportunity to take part in 'Chats & Snacks' – a networking based programme
- Social Events
- Volunteer with Maccabi GB throughout the year, both online and in-person
- Volunteering & Engagement within the wider Jewish community, including Jewish Care & Langdon.
- Graduation Ceremony
Due to the uncertainty of COVID-19, we cannot confirm exact dates and locations yet this year. We aim to accommodate everyone with programming both online at home and in person for 2021.
As well as Sports Leaders UK curriculum, our participants explore their Jewish Identity through connecting with Jewish peers across the global Maccabi network, learning about their heritage, experiencing Shabbat as a community and much more. We also aim to teach the core leadership skills that are transferable to any circumstance in life. Our young leaders graduate as confident, capable and committed leaders of the community.
Sports Leaders UK Accreditation & Requirements for 2021
· Level 1 Award in Sports Leadership (year 10) – 1 hour of volunteering
· Level 2 Award in Sports Leadership (year 11) – 2 hours of volunteering
· Level 3 Award in Higher Sports Leadership (year 12–13) – 4 hours of volunteering. Please note that this course provides graduates with 16 UCAS points.
For more information on the Sports Leaders UK accreditation, please go to this link… https://www.sportsleaders.org/qualifications-programmes/sports-leadership
As an organisation, we will provide many opportunities beyond the Sports Leaders UK requirements. We aim & have proved to create young leaders that aspire to gain leadership roles with us and other organisations. Our Leadership graduates have gone on to coach/manage at International Events, become part time & full time members of staff at Maccabi GB & Streetwise, sit on the board for Maccabi GB Young Professionals, and much more!
Residential Weekends:
Please note that Maccabi GB will continue assessing the situation in regard to the feasibility of organising Residential Weekends in 2021; If this becomes a possibility in light of updated Government Guidelines, we will be in touch with all necessary details and ample notice; please note that participation in a Leadership by Streetwise Residential Weekend is not included in the registration price, and will be charged at an extra cost TBC. (Bursaries are available upon request)