In 2021, we want you to be a part of our Team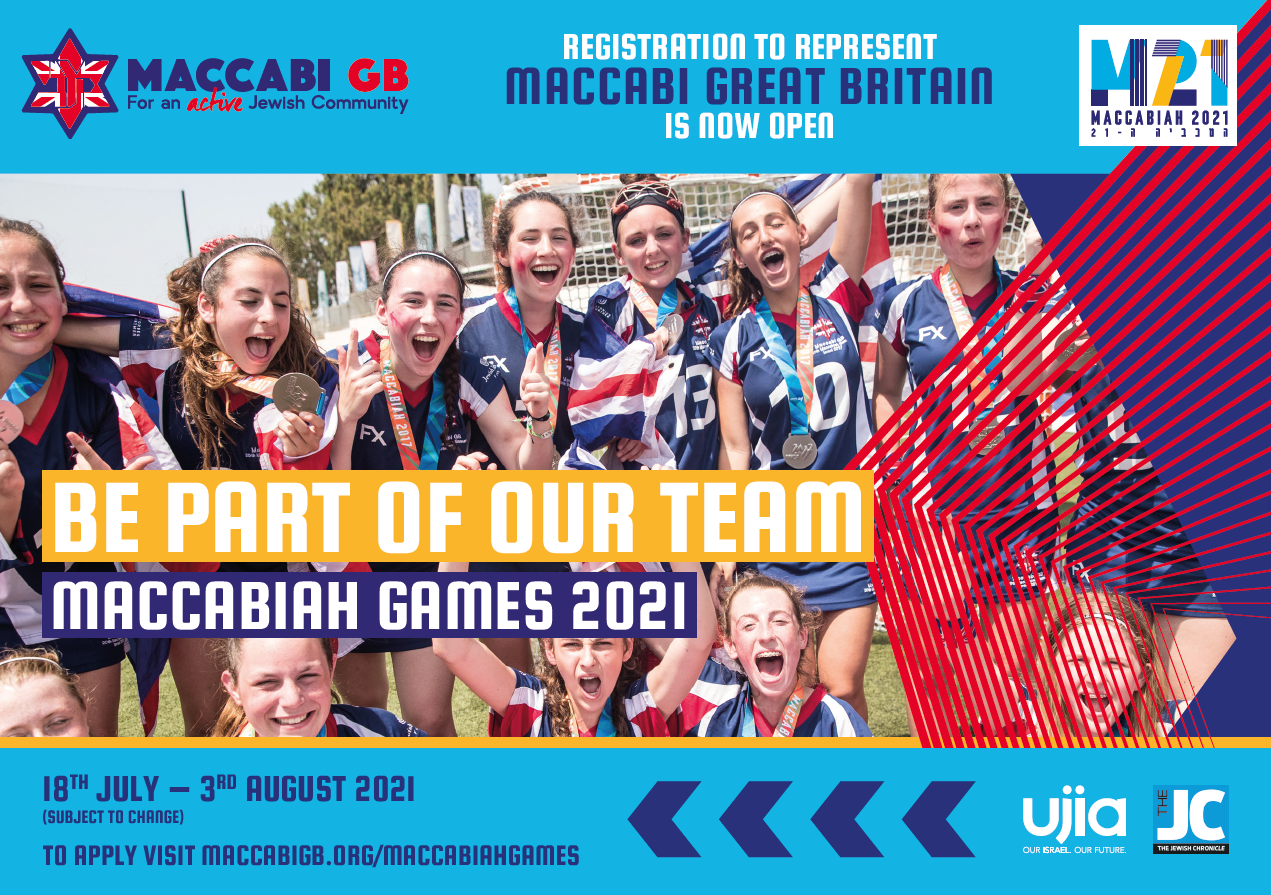 Take part in the largest Jewish international sports tournament - the 21st Maccabiah Games in Israel.
Be part of Team Maccabi GB as a Sports Chair, Manager, Coach, Doctor, Medic, Junior Manager or an athlete and represent your country and community.
Fill out the form below to start your your Maccabiah Games journey now!
JUNIOR ATHLETES APPLICATIONS NOW OPEN
OPEN ATHLETES APPLICATIONS NOW OPEN

MASTERS ATHLETES APPLICATIONS NOW OPEN

PARALYMPIC ATHLETES APPLICATIONS NOW OPEN

MANAGEMENT APPLICATIONS NOW OPEN
MEDICAL STAFF APPLICATIONS NOW OPEN
KEY INFORMATION
Dates (All subject to change)

18th July 2021 - 3rd August 2021 (including Pre Camp)
We are living in very turbulent political and economic times and understandably this has a significant impact on our ability to set an exact price for the 21st Maccabiah almost two years away. Where we can we have locked in to exchange rates now so that we can be assured of the core costs of the event but not everything we purchase is in dollars and we are sure the fluctuating markets will affect all our suppliers to one degree or another.
Taking all that in to consideration we understand that applicants need to have some idea of the price to participate and to meet this need we are at this time issuing guide pricing which may be subject to change:
Junior/Open athletes and Open managers - £4,500-£5,000
Masters athletes and managers - £5,500-£6,000
Junior managers - £2,750-£3,250
(Guide pricing maybe subject to change)
More details surrounding final costs will be communicated to all applicants / participants once confirmed.
Financial assistance is available via Maccabi GB's means-tested bursary form. To request a bursary form please contact Daniel Morris, Head of Finance.
Maccabi GB maintains the right to refuse any application to this event prior to, or thereafter, the trial process.